What is Retrofitting Dwellings for Improved Energy Efficiency?
The standard drives the 'whole house approach' including the 'fabric first' methodology to improving the energy efficiency of the dwelling. It is also a way for the client to deal with other problems like damp, mould and condensation and other measures such as insulation, heating system, improving ventilation and indoor air quality, installing renewable technologies. This in turn will reduce energy bills and reduce co2 emissions and possibly increase the value of your house.
The programme defines the qualifications and responsibilities of individual retrofit roles and respective activities required prior and post EEM installation. It also includes a risk assessment process that builds incrementally robust requirements depending on what requirement path (A, B, or C) the retrofit project is assessed to fall within.
Why do you need a Retrofit Assessor?
Dwellings which require energy retrofit work will first need to be assessed by a Retrofit Assessor. These assessors play an important role in the PAS 2035 process as they collect and provide property data/information which Retrofit Coordinators can use to develop a relevant improvement plan.
A Retrofit Assessor must hold the correct qualification and relevant accreditation he/she will visit your property and prepare a report in-line with a Retrofit Coordinator's requirements.
The Surveys involves a full EPC survey and includes a Condition Survey. Whilst this is not a full structural survey it does however looks at any signs of defects that may affect any future energy efficiency improvements. As these would need to be fixed before any improvements are made, for example if there were signs of damp it would be important to ascertain the cause, treat it and then apply improvement measure.
A part of the survey covers the Occupancy conditions, this looks at the energy bills for the previous year and the patterns of use with regards to heating and hot water use etc.
After the survey has been lodged on a desktop you will be provided with a comprehensive report that includes and Energy Report, A Condition Report and an Occupancy Evaluation which together will provide you with the information you need to make an informed decision regarding the next steps to take in making your home more energy efficient.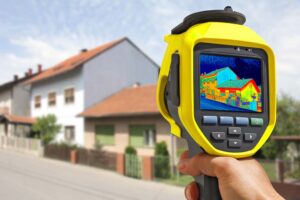 Request a retro fit assessor
We offer High quality Energy Assessments from a reliable, friendly professionals.